Podcast: Play in new window | Download (Duration: 2:02:43 — 112.3MB) | Embed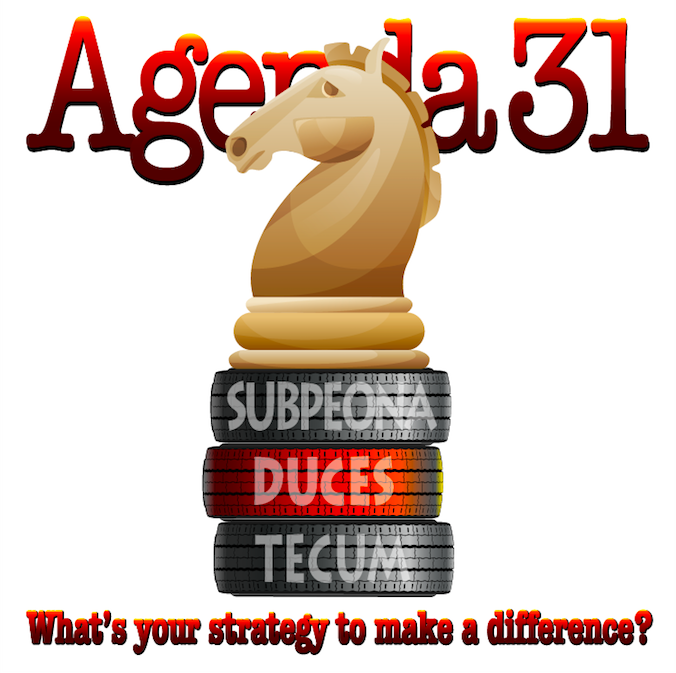 The live broadcast is moved to Thursdays. TSA whistleblower statement about codes and policies that leaders don't follow is compared to subscribing an oath of office.  Supreme Court justices tells regarding the special condition of federal citizenship where driving can be prohibited by the states without a reason are played back.  The lack of interest and knowledge about diversity of citizenship by attorneys is discussed with first hand accounts from Corey and Todd. The purported missing 13th Amendment concerning esquires, citizenship and office holding is explored. Corey cites Luis' description of averring one's Article IV citizenship, engaging the CHP and the courts, as "Chess, Not Checkers." The public announcement message at a California courthouse is played and deconstructed as more evidence of how injured politically federal citizens are as they are told they have "constitutional rights".  And, the globalists' agenda to erode nation states and their sovereignty is shown with think tank speak including how anti-authoritarian politics are endemic. 
"Missing 13th Amendment" Would Have Precluded Attorneys From Being Elected Officials & Made Attorneys Residents Not State Citizens
"If any citizen of the United States shall accept, claim, receive, or retain, any title of nobility or honor, or shall, without the consent of Congress, accept and retain any present, pension, office or emolument of any kind whatever, from any emperor, king, prince, or foreign power, such person shall cease to be a citizen of the United States, and shall be incapable of holding any office of trust or profit under them, or either of them."
Source: http://www.uhuh.com/constitution/am13-fgd.htm
Iowa Judges' Oaths of Office Requirements

Source: http://coolice.legis.iowa.gov/cool-ice/default.asp?category=billinfo&service=iowacode&input=63#63.6
Lisa Anderson – American University of Cairo: Anti-Authoritarian Politics is Endemic
Think Tanker Lisa Anderson Espouses End of Nation States

ANTIAUTHORITARIAN, ANTIESTABLISHMENT POLITICS IS ENDEMIC. SO YOU SAW THE INTERCEPTION AREA LOCAL COMPLAINTS ABOUT VERY LOCAL GOVERNMENTS AND REGIME WITH DYNAMIC THAT WERE GLOBAL DYNAMICS OF HOW PROTESTS HAVE BEEN AND WHAT KIND OF MODALITIES THERE ARE TWO PROTESTS. SO SOME OF THIS, THE GLOBAL LEVEL BEFORE SOUTH, ALTHOUGH PROBABLY NOT HOW QUITE TANTALIZING AND TERRIFYING IT WOULD BE PEERED POLICYMAKERS AND ANALYSTS TO ANTICIPATE THAT THERE WERE GOING TO BE A MAJOR SHIFT IN HOW THE GLOBAL POLITICAL ECONOMY WOULD TAKE SHAPE, BUT NOT EXACTLY HOW THAT WOULD HAPPEN. I WANT TO REMIND YOU OF A PASSAGE THAT I OFTEN USE AS AN EXAMPLE OF HOW CLEVER WE ALL ARE, AT LEAST SOME OF US, AND YET HOW PUZZLING THE IMPLICATIONS OF WATER INSIDE MAY BE. ABOUT 10 YEARS AGO, PRESIDENT OF THE COUNCIL ON FOREIGN RELATIONS WROTE, AND I QUOTE FROM THE NATIONS STATES WILL NOT DISAPPEAR, BUT THEY WILL SHARE POWER WITH A LARGER NUMBER OF POWERFUL NON-SOVEREIGN ACTORS NEVER BEFORE COME INCLUDING CORPORATIONS, NGOs, TERRORIST, DRUG CARTELS, REGIONAL GLOBAL INSTITUTIONS, BANKS AND PRIVATE EQUITY FUNDS. SOVEREIGNTY WILL FOLLOW THE END TO THE POWERFUL AND ACCELERATING PEOPLE, IDEAS, GREENHOUSE GASES, E-MAILS AND WEAPONS WITHIN CROSS BORDERS. THE WORLD 35 YEARS FROM NOW WILL BE SEMI-SOVEREIGN. IT WILL REFLECT THE NEED TO ADAPT LEGAL AND POLITICAL PRINCIPLES TO A WORLD IN WHICH THE MOST SERIOUS CHALLENGES TO ORDER COME FROM A GLOBAL FORCE IS A GLOBAL FORCES DO A GLOBAL FORCE IS DUE TO STAY FROM WHAT GOVERNMENTS DO TO THEIR CITIZEN RATHER THAN FROM WHAT STATE DO TO EACH OTHER. 10 YEARS THEN, THAT SOUNDS PRETTY RIGHT ACTUALLY, AT LEAST IF YOU THINK ABOUT THE MIDDLE EAST. AND YET WE HAVEN'T BEEN THAT DESCRIPTION REALLY THOUGHT VERY MUCH ABOUT HOW EXACTLY TRANSPIRED. I THINK WE SEE MUCH ABOUT PLAYING OUT IN THE REGION. BUT EVEN IF WE HALF EXPECTED THIS REVOLUTION AT THE GLOBAL SCALE AND WE UNDERSTOOD THE REVOLUTION ON A DOMESTIC SCALE OF THE UPRISING AGAINST REGIMES, WE ARE STILL WORKING ON ITS IMPLICATION AND FOR OUR PURPOSES IN THE MIDDLE EAST, THE DUAL REVOLUTIONS OF GLOBAL TRANSFORMATION CONVERGE IN WHAT I WOULD DESCRIBE AS A THIRD REVOLUTION BETWEEN THE SCALES, WHICH IS REGIONAL. BETWEEN THE LOCAL IN THE GLOBAL, A RACIAL REVOLUTION OR PERHAPS TO HIS TAKING PLACE BEFORE OUR VERY EYES

.
Source: http://www.c-span.org/video/?409100-1/lisa-anderson-discusses-challenges-facing-middle-east
Richard Haass – CFR: Rethinking Sovereignty
For 350 years, sovereignty – the notion that states are the central actors on the world stage and that governments are essentially free to do what they want within their own territory but not within the territory of other states – has provided the organizing principle of international relations. The time has come to rethink this notion.
The world's 190-plus states now co-exist with a larger number of powerful non-sovereign and at least partly (and often largely) independent actors, ranging from corporations to non-government organizations (NGO's), from terrorist groups to drug cartels, from regional and global institutions to banks and private equity funds. The sovereign state is influenced by them (for better and for worse) as much as it is able to influence them. The near monopoly of power once enjoyed by sovereign entities is being eroded.
Source: https://www.project-syndicate.org/commentary/rethinking-sovereignty?barrier=true